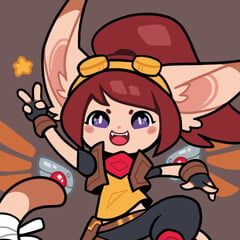 Chamille Zadorojny-Mies
Freelance Illustrator and Social Media Manager
Seattle, United States
Summary
Upbeat community content creator, illustrator, and business owner! League Of Legends and Twitch partner, actively seeking other art or community-based partnerships opportunities or internships! Active on many different social media for gaming and creative outlets. I enjoy spreading knowledge about art and its uses in gaming!
It's a pleasure to meet you! If you have questions about my work or availability, please reach out to me via email at chamillemies@gmail.com. My portfolio website is http://rintheyordle.com.
Skills
Concept Art
Illustration
Character Design
Community
Software proficiency
Experience
Freelance Artist and Owner at Rin's Art Shop

Seattle, United States of America

Rin's Art shop is my own art business I've ran over the past 5 years. I create custom artworks, projects, and products for companies and clientele. I have worked with several manufactures to created desired products, while also managing my own time schedule, networking, social media outlets, websites, marketing, and communications. I am an advocate speaker about art and gaming in communities, which I discuss through the creation of my streams on twitch.tv. I broadcast to several hundred people every week, monetizing my brand, teaching individuals seeking knowledge of my profession, showing my progress of illustrations and products, all while working to create a safe, influential place for like minded creative and gaming individuals.

Contract Community Artist at ArenaNet

I am a Contract Community Content Creator and Partner for ArenaNet, specifically for Guild Wars 2. I create artworks for mutual fans of the game to generate excitement and love of the characters and content. I have been hired to make illustrations for fans who won the raffle for the "Friend/Ships" campaign, and also made user profile icons for their forums. I have also worked with their partnered company, For Fans By Fans, to create several now officially licensed products that are sold on their website.

Contract Community Artist at Riot Games

I have been hired several times by Riot Games to make custom illustrations for different events. I have made posters for PAX East 2016 and 2018, #MundoFace contest, Sugar Rush, and Season 2019 events. I am constantly doing new projects with them when our paths cross at different events, leading me to be a Contract Artist/Community Content Creator and Partner with them.

Contract Artist at Twitch.tv

I created several emotes assets for the launch of the "food" channel on Twitch.tv. Two of these emotes became global and are used frequently; "StinkyCheese" and "NomNom". The next year, I was hired to make "FlipThis" global emote, which was later released as a special collectible enamel pin at Twitchcon 2017. These assets have been seen in StarCraft 2 as well, when Twitch partnered up with Blizzard for Prime benefits.

Contract Freelance Artist at Blizzard Entertainment

October 2017 - October 2017

For Twitchcon 2017, I worked with Blizzard Entertainment with 7 other artists to create a live painting of their World of Warcraft Characters. We were split into groups of 4 for Horde and Alliance, painting on a large canvas together throughout the 3 day convention.

Contract Artist at Wavedash Games

I created several different art assets for Wavedash Games, specifically for Icons: Arena. They were created and used for player icons and flair/sprays in game.

Assistant Manager at GameStop

As assistant manager, I interacted with customers about games and system knowledge, finding the best deals and what was best suited for their play styles. I would keep up to date with the industry, keep marketing fresh, and keep the store clean and functioning on several different levels (keeping numbers and moral high, accept and create shipments, maintain schedules, etc). I was the closest on staff with the team, making sure they were performing well and kept happy, and constantly creating good customer relationships for continued excellent services provided.